Some exciting Lemmings Revolution news!
A few months ago, I reported that Lemmings Revolution production had been halted by Psygnosis, three months from completion.
Click here for full story
Recently, Take 2 Games acquired the Lemmings rights from Psygnosis. And they turned things around. If you visit their website and go into either Europe or "Rest of the World", enter the Games section, you'll see Lemmings Revolution listed! And much better, when you click on it, you'll find out that it's due for release in April!!!
Here's what we know about the game!
Title: Lemmings Revolution
Released: April 2000
Language: English, French, German, Italian & Spanish
Developer: Psygnosis
Information I Received Several Months Ago from a Well-Informed Source at Psygnosis:
Note: this information is several months old and could have changed, but it's quite likely that if these exact features aren't in Lemmings Revolution, features based on them will be
The full game would have featured (in fact does feature, we're only 3 months from completion):
- 20 themed backdrops (featured in the demo was the underground cavern)
- 100 levels (boy, are there some great ones)
- Over 20 new traps
- A level editor bundled with the game
- Bombs
- Electrified cables
- New 9th skills: trampoline, metal builder, rocket bomber, cartwheel bomber, speedup, slowdown and anti-gravity
- Kick-boxing rats
- Shark infested custard
- Lemmings music
- Switches and levers that lie half-way across platforms (true 3D gameplay!)
- Introductory and reward FMV sequences.
Information from Game on Magazine Lemmings Revolution Preview
Note: this is the latest information available on Lemmings Revolution
It promises to be ever bit as annoying and mind boggling as the original and combined with the skills seen in the original Lemmings game, we're also likely to see new features like Anti gravity, Herder, Lantern, Rocket, Slow down, Speed up, Trampoline and Catherine wheel. We'll also see two new breeds of Lemming. The garden variety are the ones we're used to, but also Lava and Water varieties which can walk on guess what ... well Lava and Water.
Here are some Lemmings Revolution related pictures!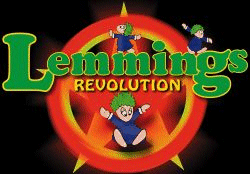 This is the image Take 2 and Game On Magazine are displaying as the Lemmings Revolution logo.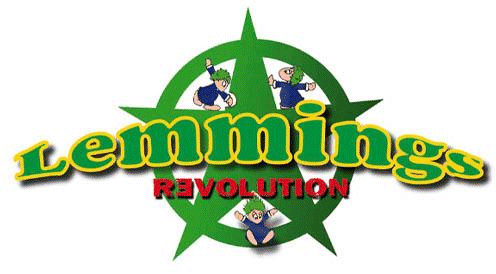 This is the logo Psygnosis UK showed when they were given people the oppurtunity to download the 1-level concept demo.
Lemmings Revolution Early Concept Demo Screenshots
Thanks to Psygnosis UK

This is an image that both Psygnosis and Game On have associated with Lemmings Revolution.
Thanks to the following sources who provided information that was compiled in this article.