---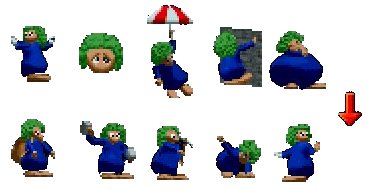 Blocker
Makes the selected Lemming stand still and prevents other Lemmings from getting by it.

Virtual Lemming
Allows you to see through the eyes of the selected lemming. Has it's uses in some levels of the game but is great fun to play with.

Floater
Normally, a lemming can only fall a certain distance without surviving. The Floater skill allows the selected lemming to fall any distance safely.

Climber
Allows the selected Lemmings to scale a 90% upright.

Bomber
Makes the selected lemming continue what it is doing for five seconds. Following that, it explodes.

Builder
Makes the selected lemming build diagonally upwards for 12 blocks.

Basher
Makes the selected Lemmings dig horizontally through a surface.

Miner
Makes a lemming dig diagonally down.

Digger
Makes the selected lemming dig vertically down.

Turner
Similar to a blocker but turns Lemmings in the selected direction.

Highlight Lemming
Puts a nice big arrow above the selected Lemming's head. Useful in crowds.