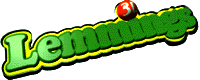 ---
Levels

The standard levels are the 100 in all versions of the game. These contain 20 practice levels and 80 levels divided into 4 categories of 20 levels each (Fun, Tricky, Taxing & Mayhem)

| | |
| --- | --- |
| All Versions (PlayStation & DOS) | Standard |

Released

3D Lemmings was released in 1995 for the Sony PlayStation and PC. It was the first lemmings game not to be made by DMA Design. Instead it was made by ClockWork Games. 3D Lemmings (unfortunately) didn't continue the story left off in The Lemmings Chronicles and was just Lemmings gampley put 3D. 3D Lemmings didn't sell too well and ClockWork Games didn't get another oppurtunity to contribute to the Lemmings saga.

The Concept

Same as Lemmings, but is 3D instead of 2D. This means there are some skills and options to control a 3D world. For more information about the skills in 3D Lemmings, click here.

Pictures

For pictures of the 3D Lemmings packaging for most platforms, look in the Packaging Pictures section.